BREAKING NEWS! I'm cooking a persian dish on TV! Click here
If you would like an entertaining yet informative tour with a light hearted sense of humour then look no further and be my guest! I can assure you that you will not be bored! I am passionate about sharing my local knowledge of the real Switzerland and its 26 ways of living. Be it for a few hours, a few days or weeks, it would be both a privilege and a pleasure to help you explore this beautiful region.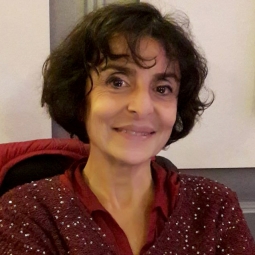 I am a local and professional guide in Geneva. I am counting on you to come to Switzerland, so I can help you explore this beautiful region of Europe. Just have a quick look on the site with the diffrent proposals. These different itineraries are mainyl situated in the French speaking part of Switzerland. But we can visit more and reach the Swiss-German part, as it is absolutely beautiful and worth it. I can organise for longer stay, from 4 to 7 days; The best is 7 days highlights of Switzerland, which will be shortly added on the site. Do not hesitate to contact me regarding the 7 days stay, at least 4 weeks ahead.
Why visit Switerzland ? Simply because there is just so much to see and do for every taste and pocket. Come to experience the beauty of its mountains, in both summer and winter, they are truly mesmerising. The tranquillity of its lakes and beautiful lakeside café culture, immaculate parks and gardens. River cruises and water sports. The picture-perfect countryside and a national train service that is second to none. Gastronomic food for every palate and vineyards that stretch as far as the eye can see. Then last but by no means least, the best chocolate in the World awaits you!
Geneva in particular may be famous for its international companies and the Red Cross Institution and corporations; however it has so much more to offer.
Visit Lake Geneva (73km long) where you can take a leisurely cruise, enjoy fine dining and discover medieval towns and castles nearby. Hire a bike and tour the breath-taking countryside and vineyards to taste the local wines as you go. Or enjoy the wonderful views from the comfort of your seat on a luxury train ride. The Old Town with its historical buildings will impress you. Chocolate shops and factories open to visitors. You can even try your hand at making your own chocolate masterpiece!
For those that enjoy some retails therapy, Geneva has luxury clothing boutiques, gift shops and jewellers.
Of course, it would be impossible not to mention the wonderful clocks and watches. Rolex, Patek-Philipp, Tissot and Swatch to name but a few.
If you love the outdoor lifestyle, be it hiking in the hills, biking along the lakeside or cruising on the river, Geneva has it all. Come and experience it for yourself. I can assure you that you will not be disappointed.
We love cheese and chocolate. But, in Switzerland, we also have very refined and delicious gastronomic food and tasty wines. Cellars to visit and share the local organic products.
Geneva is also known for its countryside, where you can bike on bike paths and stop by a cellar to taste various local wines.
Its old town and historical edifices are worth the visit, specially for a short stay. But, Geneva has a notorious chocolates and laboratories, where you can make your own chocolate.
Its botanical garden is absolutely splendid : green houses and alpin plants subjugate the coming visitors from faraway.
You are fan of watches ? As you know, we have got the most outstanding and distinguished brands : Rolex, Swatch, etc. , and/or Patek Philipp Museum.
Geneva, the peaceful town, has a lot to offer for whoever likes culture, good quality of food and wine, the beauties of the surrounding sites, museums with fair prices and a lot more for whoever is sportive and enjoys outdoor activities or sport: hiking, biking, swimming or skiing.
I look forward to welcoming you soon in Geneva /Switzerland.
Credentials
Certificate from the University of Geneva as an official Geneva guide in Tourism and culture; Member of the Geneva Guides Association;
Diploma in Tourism and Culture from Office of Tourism of Geneva;
Certificate of English : University of Cambridge;
4 Semesters in Litterature and Philosophy : University of Geneva.