Zermatt Panoramic train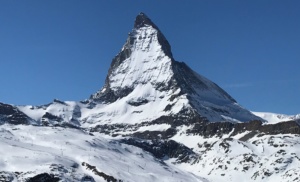 ---
Once arrived in Zermatt, we will take the panoramic train in order to reach 3'135  meters (9'500 ft) height! We will have a breath taking view on summits over 4'000 meters  and on the "Pointe Dufour" which is the highest in Switzerland, reaching 4'634 meters. Either we have lunch up there or once we have seen all, we can have lunch back in Zermatt. You will notice that no cars are allowed in Zermatt. Only electrical shuttles (or carriage horse: they have only 1 or 2 hp). We can visit of the highlights of Zermatt, once back. 
ITINERARY
Geneva – Zermatt – Panoramic Train – Summits view and lunch. Back to Zermatt to visit the village. There are other stunning places to reach with funicular or cable car, which might be more adapted according to the weather situation. Spending two days in Zermatt may also be an option. 
Transportation : Your own or rented car, train or private van or coach line.
Anyway, all cars and coaches have to be left on a parking lot, 5 km out of Zermatt village. The last leg will be with the train. 
I highly recommend to buy a Swiss travel Pass, especially if staying few days in a row in Switzerland, which allows you to travel by any regular train or bus. You'll also have a half price ticket for most mountain panoramic trains and gondolas
Duration: 8 to 10 hours.
Participants: minimum 1
Fees (guiding incl. my round-trip train ticket to Zermatt)  : CHF 520 .-